Scotland moved one other step nearer to returning to regular life on Monday as Covid-19 restrictions had been additional eased to permit hairdressers, homeware outlets and garden centres to reopen following months of shut down.
Non-essential click-and-collect providers additionally resumed enterprise after the devolved authorities stated the newest information "reveals continued suppression of Covid-19".
Scotland additionally changed its "keep at residence" order with a brand new "keep native" rule on Friday. This implies folks could make non-essential journeys of their native authority space, however not outdoors of it until for important causes.
Whereas extra lockdown restrictions have been relaxed and Covid is being steadily suppressed, deputy first minister John Swinney warned that "the virus is down nevertheless it's not but out" as he known as on folks to proceed following the foundations.
"The very last thing we'd like is to see it [Covid] making a comeback and undoing all of the progress from the large effort and sacrifices we've all needed to make," he stated.
Under the latest relaxation of regulations, hairdressers and barbers reopening must do so by appointment only, with social distancing measures and the wearing of face masks still required. Mobile hairdressing services are still banned.
Car showrooms and forecourts also reopened on Monday. And from this week, more college students will be able to return to on-campus learning, with 12-17 year-olds allowed to resume outdoor contact sports from this date. People are encouraged to continue working from home where possible.
Tony Mann opened his barber shop in Giffnock, East Renfrewshire, at 6am to enable people to get their hair cut for the first time in months.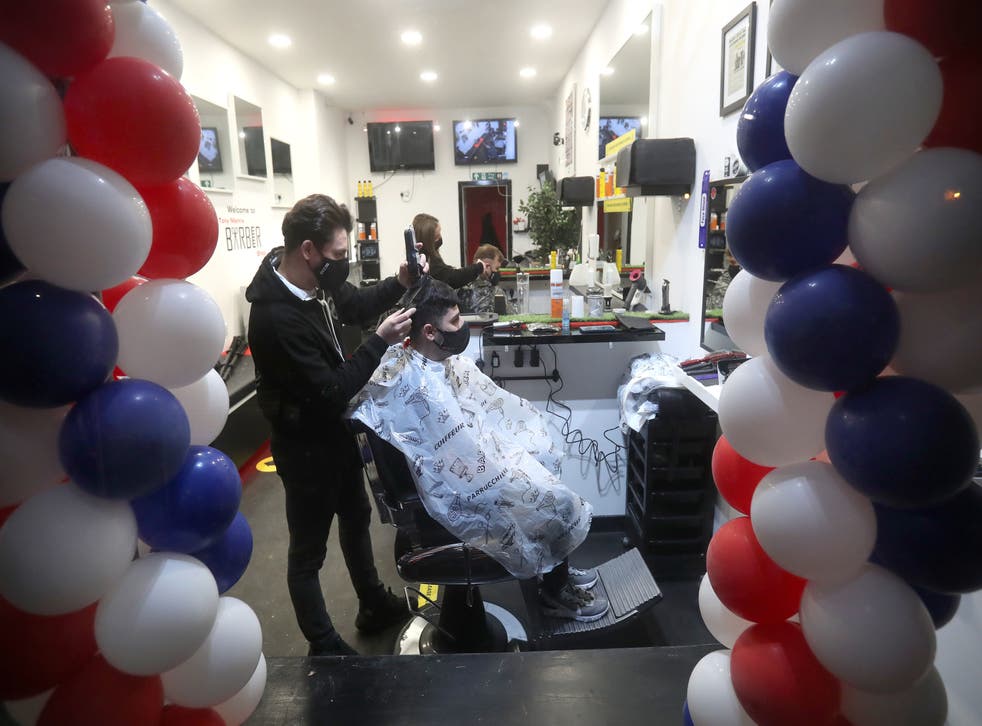 He said: "It's been four months since the last day we cut hair so the feeling today is slight anxiety and slight worry, like 'is everything going to go to plan', but I'm also feeling really excited and happy because my shop is open again.
"We start at 6am and finish at 8pm. I didn't fancy doing another 24-hour shift this time but we're open long enough. Last time we did 24 hours but what I've come to realise is doing shifts like that is not good for you."
Mr Mann said customers have been delighted to be able to book haircuts again.
He added: "It's mental health, getting a haircut and making yourself feel good is a big part of life, and if you can't make yourself feel good and you only get it from a small variety of places then you're not going to be in a particularly good place."
David Lonsdale, director of the Scottish Retail Consortium, said the reopenings are "good news" for shoppers and the economy but warned people visiting stores to be "respectful of staff" and continue following the rules.
"Retailers are working hard to prepare for reopening. Shoppers can play their part by adhering to the rules on face-coverings, social distancing, queuing, and by being respectful of shop staff," he said.
Scotland will review its route out of lockdown again on 26 April, when a further reopening of the economy is planned provided that Covid levels remain stable.
All shops, gyms, libraries, museums, galleries and tourist accommodation are expected to reopen, as well as some indoor hospitality, including pubs restaurants and cafes.
Monday's relaxation of rules came as Scotland recorded 343 new Covid cases. According to official figures published on 4 March, there were no new reported deaths of people who had tested positive.
Some 2,553,837 people have received the first dose of a Covid vaccination and 451,057 have received their second dose.
Source link